Home
ICS CXP-UK1R Transform4 EBB
ICS CXP-UK1R Transform4 EBB
ICS CXP-UK1R Transform4 EBB
Warehouse Location: M4 Stell8-Vak3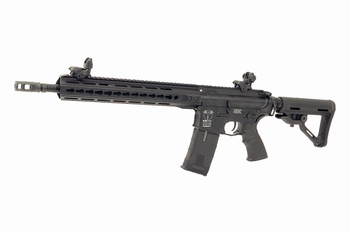 ICS CXP-UK1R Transform4 EBB
The Electric Blow-Back rifle from ICS! Equiped with the newest innovations!
The CXP-UK1R is fitted with the new MTR stock, Upper Keymod 1.0 Tactical Handguard, and new receiver for the brand new EBB function
Details:
*Full Metal
*Electric Blowback!
*Length: 811mm (906mm extended)
*Weight: 2803g
*Magazine: TMAG 300bb's
*V2 Split Gearbox!
*Inner Barrel length: 372mm x 6,04mm
*FPS: ±300
*Battery: In the buffertube (Not included)
*MTR Stock, streamlined, multi-slingmount (also has QD points!) and adjustable!
*Full Modular Keymod rail systeem, for various accessories!
*ICS-265
For more information regarding the Transform4,
Click here!

---