Home
Ultimate Series Graphite Metal Bushing 8mm 6 pcs
Ultimate Series Graphite Metal Bushing 8mm 6 pcs
Ultimate Series Graphite Metal Bushing 8mm 6 pcs
Warehouse Location: Kast2-D4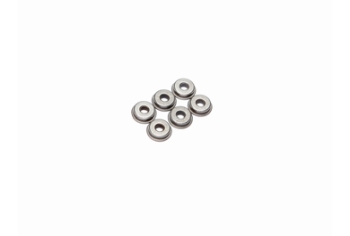 Ultimate Serie Graphite Metal Bushing 8mm 6 pcs
They might not have such a low friction as the opposing ball bearing from Ultimate, but the power and durability of these bushings eliminate the risk of bearing breakdowns.
Details:
* Brand: Ultimate series.
* 8mm bushings made out of porous sintered steel combined with graphite.
* Grafite is relatively soft and features self-lubricating properties. That's why these bushins deliver less impact on your gears and the gearbox itself.
* Optimized dimensions fits them perfectly in every 8mm gearbox.
* No speed- or power limitations making them perfect for every upgraded gearbox.
* 6 pcs per package.
---