Home
Tokyo Marui Extreme.45
Tokyo Marui Extreme.45
Tokyo Marui Extreme.45
Warehouse Location: M4-A-E5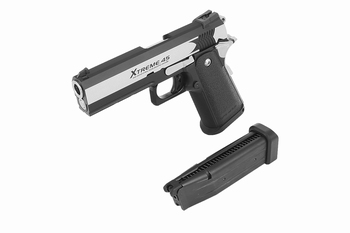 Tokyo Marui Extreme .45
The Extreme .45 Hi-Capa of the famous Tokyo Marui!
A Fully Automatic Hi-Capa type with the extreme good performance of Toyko Marui!
Details:
*High quality ABS Body
*Length: 200mm
*Barrel length: 95mm
*Mag. Capacity: 31+1 BB's
*Hop Up Type: Adjustable
*Weight: 862 gram
*Energy: 1 Joule
*Extreme good performance, as known from Tokyo Marui!
*2 special "Movie Prop" followers included, to make dry firing possible
*Accessory under-rail
*Full auto only!
---