Home
PDI TM L96AWS Precision Cylinder Set HD
PDI TM L96AWS Precision Cylinder Set HD
PDI TM L96AWS Precision Cylinder Set HD
Warehouse Location: Stell16-Bak2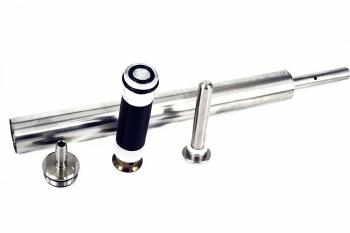 PDI TM L96 AWS Precision Cylinder Set HD
An extremely good upgrade cylinderset for the TM L96 AWS .
Details:
*Full metal parts
*High flow, specially formed steel cylinderhead for optimal airseal and airflow. Impact O-ring on the back
*Hard Piston, made from Duralumin, Delrin and steel.
*Steel, polished springguide with Delrin bushing.
*The hard piston is more durable than other pistons
*45-degree trigger unit required
*Caution! Specifically made for 13mm springs!
*SUS304 Steel Precision, Cold Hammered, seamless cylinder. With a tolerance of ±0,01mm, its one of the most precise cylinder on the market!
*Cylinder is laser-welded and fixed with 4 parallel pins. This ensures an extremely strong cylinder!
*Caution! For a smooth action, the cylinder support rings and barrel base need to be polished if you use the stock Tokyo Marui receiver. This due to the slightly wider diameter of the cylinder!
---