Home
PDI TM L96AWS Precision Cylinder Set HD
PDI TM L96AWS Precision Cylinder Set HD
PDI TM L96AWS Precision Cylinder Set HD
Warehouse Location: Stell23-Bak7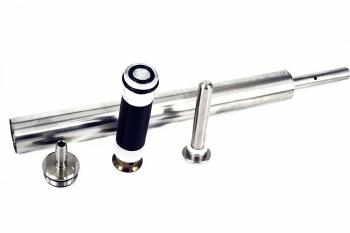 PDI TM L96 AWS Precision Cylinder Set HD
An extremely good upgrade cylinderset for the TM L96 AWS .
Details:
*Full metal parts
*High flow, specially formed steel cylinderhead for optimal airseal and airflow. Impact O-ring on the back
*Hard Piston, made from Duralumin, Delrin and steel.
*Steel, polished springguide with Delrin bushing.
*The hard piston is more durable than other pistons
*45-degree trigger unit required
*Caution! Specifically made for 13mm springs!
*SUS304 Steel Precision, Cold Hammered, seamless cylinder. With a tolerance of ±0,01mm, its one of the most precise cylinder on the market!
*Cylinder is laser-welded and fixed with 4 parallel pins. This ensures an extremely strong cylinder!
---