Home
PDI Precision Cylinder set VC for MZ APS Type96
PDI Precision Cylinder set VC for MZ APS Type96
PDI Precision Cylinder set VC for MZ APS Type96
Warehouse Location: Kast3-B4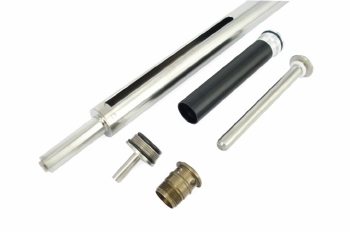 PDI Precision Cylinder Set VC for Maruzen APS Type 96
An extremely good upgrade cylinderset for the Maruzen APS Type 96.
Details:
*Full metal parts
*High flow, specially formed steel cylinderhead for optimal airseal and airflow. Impact O-ring on the back
*Vacuum Piston, made from Duralumin, Delrin and steel. This special Vacuum piston has a special valve built in to counteract negative pressure, for better performance.
*Steel, polished springguide with Delrin bushing. (Caution! Specifically made for 13mm springs!)
*SUS304 Steel Precision, Cold Hammered, seamless cylinder. With a tolerance of ±0,01mm, its one of the most precise cylinder on the market! (20mm innerdiameter)
*Cylinder is laser-welded and fixed with 4 parallel pins. This ensures an extremely strong cylinder!
*Please note! This cylinder does not fit on the Gen 1 Type 96. (Only fits on models with a cylindershaft with a 12mm diameter)
---