Home
PDI MZ APS Type 96 V- TRIGGER
PDI MZ APS Type 96 V- TRIGGER
PDI MZ APS Type 96 V- TRIGGER
Warehouse Location: Stell24-Bak7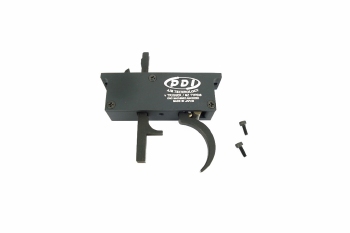 PDI Maruzen APS Type 96 V-TRIGGER
Basically the best and strongest triggerbox on the market!
Details:
*Made from Carbon Steel and Duralumin
*Made for the Maruzen APS Type 96 (And some L96 Clones)
*Adjustable trigger pull (Factory settings are set at the heaviest pull, please adjust accordingly. Caution! Too low adjustment can result in problems!)
*Setpin (Spring guide stopper) is cocking-indicator compatible. (Set pin is also exchangable with a solidsetpin, which is more durable)
*Original safety is usable(Some parts of the original trigger need to be used)
*Polished sears and trigger with bearings for a fine, clean trigger pull
*Extremely strong!
*Please note! Does not have a handle lock system
---