Home
PDI Hop Up Chamber V2 for TM VSR-10
PDI Hop Up Chamber V2 for TM VSR-10
PDI Hop Up Chamber V2 for TM VSR-10
Warehouse Location: Kast4-A5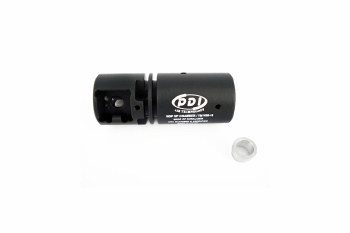 PDI Hop Up Chamber V2 for TM VSR-10
A one-piece precision hop up unit for the TM VSR-10 series.
Details:
*Made from Duralumin
*Specifically for the TM VSR-10 series
*Double hop up adjust allows for sideway deviation adjustment
*Please note! Specifically made for AEG barrels and AEG hop up rubbers! (Hop up bucking not included!)
*Centring barrel lock ensures a stable mount
*Works optimal PDI Parts
*New W-Hold system holds BB's stable and softly
*Please note! The hop up unit is not made to give "zero / no" hop up effect.
*The hop up chamber requires assembly. Technical experience is needed!
*Enhanced accuracy, stability and range!
---