MODIFY XTC-G1 AEG
Xtreme Tactical Carbine
Warehouse Location: M4 Stell8-Vak11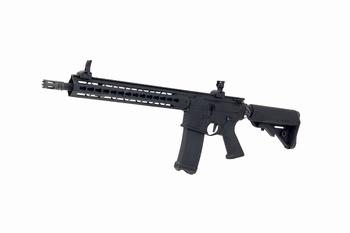 MODIFY XTC-G1 AEG
The Modify XTC-G1 AEG, Xtreme Tactical Carbine, with the innovative Modify upgrades pre-installed! A bunch of handy features makes this an unique rifle!
Details:
*Black color
*Weight: 2.9Kg
*Barrel Length: 363mm
*Barrel Diameter: 6.1mm
*Length: 804mm/889mm (Extended)
*FPS: 350-370 ~ 380-400 (Switchable)
*Battery: Cranestock/nunchuck (Not included)
*Innovative fast 45° ambidexerous selector switch!
*T6065 High Grade Aluminum Keymod tactical rail, for various keymod accessories!
*Standard 1913 Picatinny rail
*Flip up front & rear sights
*Enhanced XTC 190rnd Midcap included
*CNC Steel flash hider
*14.5'' CNC outer barrel
*Steel fast straight trigger!
*8mm Ceramic ball bearing gearbox
*Quick spring exchange gearbox, with 2 FPS settings!
*Functional Bolt catch
*Ergonomic cranestock with conductor rail, for smooth retraction and extention
*Cranestock has a quick-release battery latch
*Ergonomic pistol grip
*With Mosfet upgrade
---