ICS G33 Two Tone
Warehouse Location: M4 Stell8-Vak1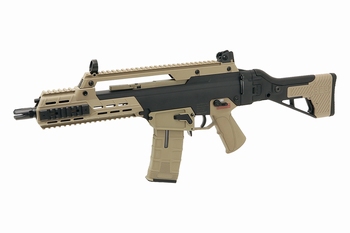 ICS G33 Two Tone
De ICS G33 series! Modeled after the G36 series, but with a new and improved design.
Tactical handguard, SFS Sniper stock and the possibility to use M4-mags.
Details:
* Colour: Two Tone
* Strengthened Polymer body
* Weight: 2400g
* Length: 738mm/510mm (folded)
* Barrel Length: 263mm
* Barrel Diameter: 6,04mm
* Accu type: Mini/Small Type in handguard (Not included)
* V3 Gearbox, 7mm Bushings (G36 parts)
* FPS: ±300fps
* Magazin type: M4-type
* SFS Sniper Folding Stock/Situation Flexible Stock, known from the MX5-Pro! Fully adjustable in height and length!
* Tactical Handguard with rails on both sides
* Full Length upper rail, for all kind of optics and other tactical gear
* ICS-235
---