Home
ICS CXP-UK1 Captain MTR Black EBB
ICS CXP-UK1 Captain MTR Black EBB
ICS CXP-UK1 Captain MTR Black EBB
Warehouse Location: M4-P4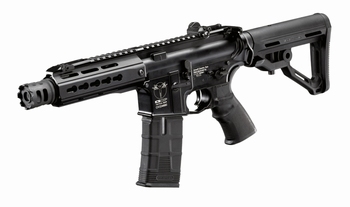 ICS CXP-UK1 Captain MTR Black EBB
The newest Electric Blow-Back rifle from ICS!
The CXP-UK1 Captian follows in the footsteps of the UK1 series. The CXP-UK1 Captain is an ideal replica for close quarter battle!
Details:
*Full Metal
*Color: Black
*Electric Blowback!
*Length: 617 mm (693 mm Extended)
*Weight: 2840g
*Magazine: TMAG 300bb's (included)
*V2 Split EBB Gearbox!
*Inner Barrel length: 186mm
*FPS: ±300
*Battery placement: Buffertube
*Please note! Battery not included!
*MTR Stock, streamlined, multi-slingmount (also QD mounts!) and adjustable!
*Unique Steel Crown flashhider !
*Full Modular Keymod rail system, for various accessories!
*ICS-262 model
Do you want to know more about the Split Gearbox?
Click here!
---