Home
Dan Wesson 8'' Revolver Grey GNB, CO2
Dan Wesson 8'' Revolver Grey GNB, CO2
Dan Wesson 8'' Revolver Grey GNB, CO2
Warehouse Location: M4-A-H1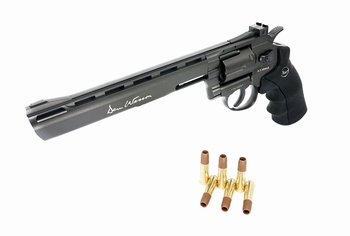 Dan Wesson 8'' Revolver, Grey, CO2
Extremely elegant and intimidating, the Dan Wesson 8 '' revolver!
The big brother of the Dan Wesson 6 '' revolver, one of the most powerful sidearms on the market!
Details:
*Full Metal
*Length: 338 mm
*Barrel length: 193 mm
*Mag. Capacity: 6 rounds
*FPS: +/-540 FPS
*Weight: 1040 grams
*Works with real shells (6 shells included)
*Comes with speed loader and detachable tactical rail!
*Very beautiful Grey finish, and Dan Wesson markings!
*Operated on CO2 cartridges
*Double Action Trigger
*Extremely realistic!
*Ergonomic grips!
*Adjustable Rear sight
*Adjustable hopup : None
*Ref 16182
---