Home
ASG STI Tac Master GBB
ASG STI Tac Master GBB
ASG STI Tac Master GBB
CO2 Ready!
Warehouse Location: M4-A-H1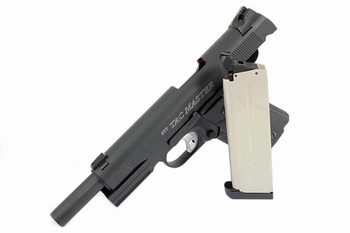 ASG STI Tac Master
Based on a 1911-A1 but with some modifications like improved grip and tactical rail.
The GBB is CO2 Ready! By placing a CO2 storage
Details:
*Metal Slide
*Rubber Grip
*Original STI Markings
*Competition Trigger
*Gas Mag: Ref. 17182 (available)
*CO2 Mag: Ref. 17183 (available)
*Length: 230 mm
*Barrel length: 112 mm
*Mag. Capacity: 26 rounds
*Standard Mag.: 17182 Included (Gas mag)
*Hop Up Type: Adjustable
*FPS: +-280~300
*Weight: 800 gr.
*Created by KJWorks
*Ref 17181
---