Home
ASG Dan Wesson 715 6'' Silver GNB (Low Power)
ASG Dan Wesson 715 6'' Silver GNB (Low Power)
ASG Dan Wesson 715 6'' Silver GNB (Low Power)
Warehouse Location: M4-A-G2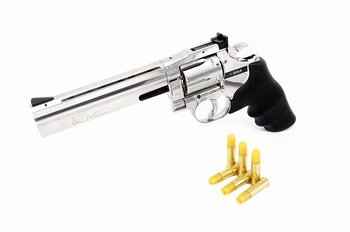 ASG Dan Wesson 715 6'' Silver GNB (Low Power)
The legendary 715 6'' Revolver from Dan Wesson! This replica of the new 715 honors the old Model 715 classic.
An extremely imposing revolver!
This updated model, unlike the "older" Dan Wesson's, has a adjustable hop up!
Details:
*Full metal
*Length:298 mm
*Barrel length:140 mm
*Mag. Capacity:6 BB's
*Shell Speedloader (Included)
*Hop Up Type: Adjustable
*Weight:1225 gram
*Energy:1,0 Joule
*Official Dan Wesson license, and 357 magnum engravings on the barrel
*Hogue imitation rubber ergonomic grips
*12g CO2 capsule is placed in the grip, where the grip has a built-in tool!
*Improved internals and trigger pull (Compared to current Dan Wesson models)
*Improved cylinder lock
*Tactical rail for accessories sold seperatly (Not included!)
*Ref 18194
*Please note! Scope and rail not included!
---