Home
ASG CZ P-09 Two-Tone, Cased, Metal Slide
ASG CZ P-09 Two-Tone, Cased, Metal Slide
ASG CZ P-09 Two-Tone, Cased, Metal Slide
Warehouse Location: M4-A-G5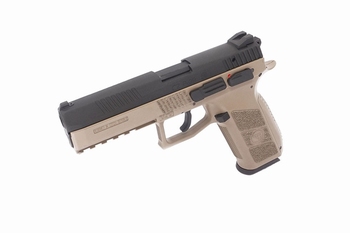 ASG CZ P-09 Two-Tone, Cased, Metal Slide
The CZ P-09 is a full size, tactical pistol designed by CZ! Two-Tone version, including hardcase!
Details:
*Length: 205mm
*Barrel length: 100mm
*Mag capacity: 25 rounds
*Standard Mag.: 17658
*Hop Up Type: Adjustable
*Weight: 910g
*FPS: ±300 fps
*Blowback system
*Tactical rail for various accessories
*Ambidextrous safety
*3-dot iron sight system
*Metal Slide
*Polymer body, with aggressieve grip panels for optimal grip
*Full metal outer barrel (Threaded outer barrel also available! Not included.)
*Double Action smooth trigger
*CO2 ready!
*Plastic hardcase included!
*Ref 18182
---