Home
ASG 7.4v 1300mAh 25C Stick Lipo
ASG 7.4v 1300mAh 25C Stick Lipo
ASG 7.4v 1300mAh 25C Stick Lipo
Warehouse Location: M2-Bak8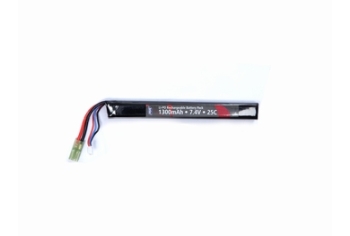 ASG li-po battery pack 7.4v 1300mAh 25C
7.4v accu stick type
Details:
*Capacity: 1300mAh
*Discharge value: 25 c
*Voltage: 7.4V
*Type: Stick
*Caution! Only charge with a LiPo Charger!
*Avoid overdischarge by using a LiPo alarm
*We recommend using a LiPo safe bag
*Ref 18568
For more information about batteries,
Click here!
(Only available in Dutch)
CAUTION: YOU REQUIRE A LI-PO CHARGER TO CHARGE THIS BATTERY!
LiPo-batteries need special treatment. Wrongfull use -like faulty (dis)charging, handling and storage - can lead to catastrophic failure
---